Quilting in Circles
The Book The DVD Baptist Fans DVD Special Offers Shipping
---
After creating the Circle Templates, I wrote a 28 page, step-by-step, photo illustrated instruction manual on how to use the Longarm U Circle Templates, which I included with the purchase of the Circle Templates.
In the Instruction Manual I included many different circle quilting designs, including 11 pages of instruction on how to quilt the Baptist Fan design.
Then an interesting thing began to happen - I was getting requests for the Circles Template Instruction Manual from people who had circle templates (with no instructions) that were manufactured by others!
To keep everyone happy, I re-wrote the Circles Instruction Manual to be more "generic" so anyone, with ANY kind of circle template, can use it.
(In my opinion, if you don't have detailed instructions on how to use ANY template, all the template becomes is an expensive piece of plastic!)
Quilting in Circles - The Book
I changed the title of the Instruction Manual to "Quilting in Circles" and it is now available to everyone!
This book includes 28 pages of step-by-step photo instructions on how to quilt many circle designs including -
Basic Circles
Orange Peel, Pumpkin Seed, Overlapping Circles, Tea Cup
(all the same design, just different names)
Clam Shells with variations
Overlapping Circles Border
Overlapping Concentric Circles Border
Several Block Designs
Baptist Fans - 11 pages of instructions on how to create this wonderful, traditional pattern.
and Baptist Fan Borders, too!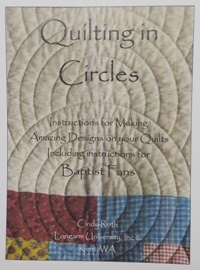 Quilting in Circles Book
---
---
Quilting in Circles - The DVD
A few years ago I began to make DVD's of many quilting techniques, including a DVD of the designs in the Quilting in Circles book.
This DVD will show you how to quilt ALL the designs listed in the Quilting in Circles Book, plus several more!
Below are some photos of the class project for this DVD.
Click on the photos for a larger view and a slide show
---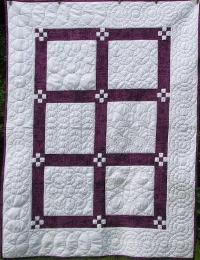 Full view of the class project quilt.
Included in the DVD is the piecing instructions for this quilt.
You can quilt along with Cindy Roth using what ever circle templates you have in your studio!
---
Here are a few of the many block designs in the DVD
---
And here are some of the border designs in the DVD.
---
Quilting in Circles - The DVD
Price includes shipping!
---
---
Baptist Fans DVD
Baptist Fans, which are interlocking quarter circles, are an old, traditional hand quilting design.
The Baptist Fans quilt design has been used on quilts dating back to before the Civil War.
Why is this design named Baptist Fans? There are two explanations that I know of.
Note: I tried to do a brief internet look up on the history of this design and could find very little documented information. What I am writing is from what I have heard about this design from over the many years that I have been quilting.
One explanation is that, over the last 150 + years or more, a quilt would be made as a church fund raiser. At that time all quilting was hand done and the quilt would be set up in a frame, usually in the (Baptist) church basement and the church women would work on the quilt. That is where the "Baptist" part of the name came from.
The "fans" would be quilted without a pattern by positioning the quilter's elbow in the corner and sweeping the quilting hand in an arc shape to make the outer "fan". The smaller fans would be worked using a finger as a spacing tool.
My father's Mother, Grandma Minnie Craig, was an avid quilter, even when quilting wasn't cool. I remember her marking Baptist Fans on her quilts by tying a string around a pencil and making knots in the string at certain points.
She would then position a knot in the corner of the quilt, stretch out the string and move the pencil and draw an arc onto the fabric. Then she would position the next knot and draw another arc. She would continue this way until the whole arc was marked, then move on to the next arc. All her quilts were hand quilted and I do have one or two of them.
Another explanation is that, before the days of air conditioning, there would be cardboard fans place in the pews of the church. When it would get warm, people -mostly women - could fan themselves to cool off.
On a personal note, I do remember as a child going to church in Chicago during the summer with no air conditioning and seeing these fans. The fans I remember were made from a very heavy card stock / lightweight cardboard and had a curved top edge. There was a religious picture on one side and an advertisement for a local funeral home on the other side! The top of the fan was curved and there were also other curves at the bottom of the fan. Maybe a quilter got the idea to combine these curves for the Baptist Fan design.
No matter how the Baptist Fan pattern got it's name, it is a wonderful pattern that give a ton of texture to a quilt.
The only way I have found to make "good" Baptist Fans is by using circle templates.
Baptist fans are not too hard to stitch, but there are a few trips and tricks on how to do this efficiently, all of which are all covered in this DVD.
In the DVD I also show you several different Baptist Fan BORDER options.
Many times I will quilt Baptist Fans in the borders and something else in the body of the quilt.
One more note - I quilt for other people. Any time I use templates on a customer quilt I charge extra! Sometimes, a LOT extra. When I quilt Baptist Fans on a customer quilt, (think Civil War Reproduction fabrics) many times my price will double or triple. Yes, you can charge MORE for this type of quilting and YES, your customers will pay for it.
Here are some photos of the Baptist Fans class project from this DVD
Click on any photo for a larger view and a slide show
To view other photos of Baptist Fan quilting Click Here
---
Baptist Fans DVD
Price includes shipping!
---
Special Offer #1
Quilting in Circles - The Book AND
Quilting in Circles - The DVD
Price includes shipping!
Special Offer #2
Quilting in Circles - The Book AND
Quilting in Circles - The DVD AND
Baptist Fans DVD
Price includes shipping!
---
Special Offer #3
Quilting in Circles DVD AND
Baptist Fans DVD
Price includes shipping!
Longarm University Shipping Policy
When you order any products via our secure web-cart, you will be charged a shipping fee for each item ordered. We will re-calculate the shipping charges to the lowest fee for your order and adjust your final shipping amount.
Example: A package which weighs 2 pounds 5 ounces, will cost about $13 to ship to the East Coast from Seattle, WA. The same package, shipped to California will cost about $8. No matter what shows on your Shopping Cart receipt, when processing your order, we will adjust the cost of postage to the lowest amount possible.
International Orders: Shipping to orders outside of the US will be SIGNIFICANTLY higher and charged accordingly. For International Orders over $100 (USD) Longarm U will pay HALF of the shipping fees.
If you have any questions on the cost of shipping, send an email, listing the item(s) you want to order along with your zip code to longarmu@aol.com and we can give you an estimate of your shipping costs.