Triple Cable Template Set
Triple Cable Designs About the Templates Shipping
---
This is my most complex template yet! This three piece template set will allow you to make traditional and beautiful cable designs, including curved cabled corners!
This template will make the following THREE Cable Border Designs!
Click on any photo for a larger view and slide show

Traditional Triple Cable

Cable & Feather Design

Feathered Cable Design
To view a FREE Feather Cable Border Mini Class Click Here
To view a mini (print) Tutorial of How to Make the Traditional Triple Cable Design Click Here
To see photos of quilts I have made using the Longarm U Border Templates Click Here
For information about the Super Dooper Template Offer Click Here
---
The Triple Cable Template has a finished width of 6 inches. This is measured at the widest part of the cable as shown with the arrow on the illustration.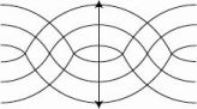 ---
About the Triple Cable Template Set
This template has been re-designed and can be used on ALL brands of quilting machines.
The instructions for this template include the following:
THREE laser cut, 1/4 inch thick acrylic templates. These THREE templates will make the THREE Triple Cable Designs shown at the top of this page! Click Here
4 instructional DVD's showing you how to make THREE different Cable Designs - Traditional Triple Cables, Feather & Cable designs, Feather Cable designs.
4 printed, spiral bound, step by step, instruction manuals
2 full size, laminated drawing sheets with a Vis-a-Vis marking pen so that you can draw your Feather Cable Borders before quilting
Piecing quilt pattern so that you can quilt along with me using your templates
This template set can be used on ALL BRANDS of quilting machines!
Yes, this IS an expensive tool - and you will LOVE working with it. The price includes an extensive educational package so you will understand how to use the Triple Cable Template to make THREE different cable border designs. In the Triple Cable Educational Package, I literally "hold your hand" and show you, step by step, how to create all THREE of these wonderful cable designs!
Unconditional Money Back Guarantee!
If you are not completely satisfied with this product, send it back for a full refund. I will even refund the cost of the return postage!
A final note - I am a professional machine quilter and I do quilt for customers. My customers LOVE feathers and they LOVE the Feather Cable design on their quilts! When I quilt the Feather Cable on their quilt, I usually add at least 25 - 50% MORE (depending on the size of the quilt) to the quilting charges. My customers willingly pay the extra price for this type of quilting!
---
I received this email from Jean R., GA, who recently purchased the Triple Cable Template. Jean writes -
"I ordered the triple cable/feather border templates and grid stencils from you. I immediately started on a king sized quilt with the border in disk 4 (hardest one I am certain)
I just wanted to say that I am completely amazed at the "engineering" it took to make these templates. They are incredible and I appreciate the mental gymnastics required to think this up and "get 'er done".
Your templates go over and above anything on the market because your instructions are exceptionally good. Not only do you send the DVD, but you offer suggestions, tips and encouragement...and most importantly the instructions are so NOT the perfectionist that they become completely non-intimidating designs. (World peace does not depend on perfect quilting!)
As one who has agonized over sizing a pattern to a border, the freedom to let "what happens in the middle just happen" is absolutely liberating!!!"
Jean promises to send photos of her quilt when it is completed. I will post them as soon as I get them.
---
To visit my personal blog, where I have posted photos of my customer quilts I have quilted using the Triple Cable Template Click Here
To view a FREE Feather Cable Border Mini Class Click Here
The Triple Cable Template Set
The Triple Cable Template Set is laser cut from 1/4 inch clear acrylic and can be used on ALL quilting machines.
A COMPLETE educational package including printed instructions, DVD's, laminated drawing sheets, and more are included!
Triple Cable Template Set
FREE Shipping on ALL orders over $100!!
For best results use the 1-1/2 inch Stencil Grids
---
Longarm University Shipping Policy
When you order any products via our secure web-cart, you will be charged a shipping fee for each item ordered. We will re-calculate the shipping charges to the lowest fee for your order and adjust your final shipping amount.
Example: A package which weighs 2 pounds 5 ounces, will cost about $13 to ship to the East Coast from Seattle, WA. The same package, shipped to California will cost about $8. No matter what shows on your Shopping Cart receipt, when processing your order, we will adjust the cost of postage to the lowest amount possible.
International Orders: Shipping to orders outside of the US will be SIGNIFICANTLY higher and charged accordingly. For International Orders over $100 (USD) Longarm U will pay HALF of the shipping fees.
If you have any questions on the cost of shipping, send an email, listing the item(s) you want to order along with your zip code to longarmu@aol.com and we can give you an estimate of your shipping costs.