Fall is in the air! Celebrate this Special Season with 3 Fall Themed Online Quilt Classes
Fall Special Instructions - These classes are hosted on the Longarm U sister website Longarm Classroom. You MUST sign up for this Special Offer via this webpage. You will be manually enrolled in the online classes and email confirmations will be sent to you when you can access the classes.
The 3 classes in the Fall Class Special are -
Click on any photo for a larger view and slide show
Sunflowers Quilt
To view the details of the Sunflowers Quilt class Click Here
Pumpkin Pile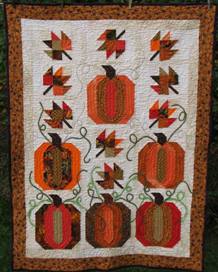 To view the details of the Pumpkin Pile Quilt class Click Here
Autumn Leaves Table Runner
This photo does not do justice to this table runner. The larger view shows the whole table runner.
To view details of the Autumn Leaves Table Runner Class Click Here
The piecing and quilting in all of these classes are easy!
All THREE of these classes have a TABLE RUNNER option! If you don't have the time to make a big quilt, make a table runner! TABLE RUNNERS make GREAT GIFTS!
NOW is the time to start your Fall quilting!
---
These three online classes include ALL piecing instructions and ALL quilting instructions, ALL online for you to view 24/7 for 60 days!
In addition, a DVD and ALL printed instructions will be sent to you at NO extra charge!
If purchased individually, the total price of these three classes would be $119.85
Special Offer #1 - All three classes only $89.95! Save $30!
Special Offer #2 - Choose two classes only $59.95! Save $20!!
NOTE: This is the ONLY way you can register for all three of these classes and receive this special discount!
To Register for this Fall Special Offer simply fill in the form below and check out using the Secure, Shopping Cart.
Your Registration will be manually processed and an email will be sent to you confirming your enrollment. The email will include class addresses and login information
If you have any questions, please contact me at LongarmU@aol.com
---
Fall Class Special #1 - $89.95! Save $30!
Sunflower Quilt, Pumpkin Pile Quilt and Autumn Leaves Table Runner
---
Fall Class Special #2 - $59.95! Save $20!
---
If you have any questions, please contact me at LongarmU@aol.com