October 2015 Newsletter
---
---
Welcome to October!
September just blasted past! How come the days seem to be flying by so quickly? Is it because I have been busy, busy, busy - with quilting of course!
I have been working on a couple of BIG quilts and I wrote about them on my personal blog. To view the posts about these quilts Click Here
I love the Fall! I love the cooler days and the colors of the leaves changing is amazing! I always get inspired to make a quilt with Fall colors this time of year.
I have a few more pages to add to the Longarm U website. These pages, the Pantograph Pattern pages, are taking a lot longer than I expected to create. I have had to re-do most of the drawings and re-photograph many of the quilt samples. It has not been an easy transition from the old website program to the new website program.
When the Pantograph Pattern pages have been added I will be sending out emails - and celebrating with a Starbucks drink of some sort!
---
Wonky Borders
Wonky - or Bad - Borders are the plague of machine quilting. How you apply your borders DO matter! As a professional quilting, wonky, or bad borders are one of the most frequent "problem" that I run into.
The last quilt I worked on did have some wonky borders, which I chose to remove, re-measure, trim then re-apply to the quilt, all before the quilt went on to the quilting machine.
I documented all of this and it is on the Longarm U website Tutorial Page. To go directly to the Wonky Borders page Click Here
I hope that all your quilts have flat, straight and smooth borders. If not, here is one way to fix them.
---
Longarm Classroom Website
The Longarm U sister website Longarm Classroom needs to be re-built. The Longarm Classroom website was built with the same software as Longarm U many years ago. This software is no longer supported by my hosting service, and that is why the websites need to be re-built.
ALL the video and classes on Longarm Classroom is still functioning. You can still sign up for online classes and view all the video.
When I get the Longarm Classroom website re-done, I will let you know via email.
Please take some time to look at the classes being offered on the Longarm Classroom website at www.LongarmClassroom.com
---
Class of the Month - Pumpkin Pile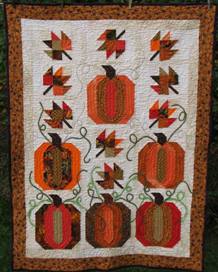 Whether you grow your own pumpkins or just love pumpkin pies, pumpkin bread or pumpkin latte's, it isn't October unless you have pumpkins! Even as a quilt!
This year I planted Jack-be-Little pumpkins and they took over my yard! I love these little pumpkins! They are great for making arrangements, they look great in a big bowl or platter, sitting on top of a Pumpkin Pile table runner!
I haven't harvested my Jack-be-Little pumpkins yet, but will in a few weeks. I like to have some of my Grand kids come over and let them do the picking.
Click on any photo for a larger view and slide show.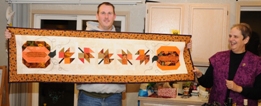 Last year I made a Pumpkin Pile Table Runner for my Daughter-in-Law's November birthday - and she LOVED it!
Here is a photo of my son Adam and I looking at the table runner.
The piecing of the pumpkins is easy - there is even a video on how to piece the pumpkins and the leaves.
The quilting is easy also! There are several simple embellishments on this quilt including couching- which is stitching over yarn, with the quilt on the longarm machine - and painting, with "regular" acrylic paints. You will be amazed at how easy it is do these techniques and how much they add to the finished quilt.
For details on the Pumpkin Pile class Click Here
For the Supply List of this class Click Here
This online class includes the piecing instructions for the Pumpkin Pile table runner, a small wall hanging (both shown in photos above) and a large wall quilt AND all quilting and embellishing instructions.
Bonus!! This class also includes instructions on how to make a hanging sleeve so you can easily display your quilt!
If you love Fall, you are going to LOVE making - and displaying - the Pumpkin Pile Quilt!
---
Fall Quilt Class Special Offer!
The THREE quilts below are specially priced for Fall! Save up to $30!! For details on the Fall Quilt Class Special Offer Click Here
---
(Circle) Feather Guide Templates
Feathered Wreaths add a traditional touch to your quilts. Many times, feathered wreaths can be intimidating to quilt. Not any more!
The Longarm U Circle Feather Guide templates take the fear and intimidation out of feather wreaths and open up a WHOLE new range of quilting designs including borders, "open" spaces and even feathered Baptist Fans!
For the details on these amazing templates Click Here
Yes, there are free video tutorials on how to make a Single Feathered Wreath and a Double Feathered Wreath! To view these tutorials Click Here
FWIW - the Double Feathered Wreath in the photo above was quilted in less than 10 minutes with only TWO starts and stops!
There is even an online class using the Feather Guides to make a wonderful quilt with an amazing Amish Swirl border!
For details on the Feathered Wreath Quilt Class Click Here
If you would rather work with stencils, check out the Feather Wreath Stencils by Clicking Here.
These stencils make many the same designs that the Feathered Wreath Templates do. And, they come with complete instructions!
---
Charity Quilt Challenge 2015 Update
I included this Charity Quilt Challenge in the last newsletter and I received only ONE photo of a Charity Quilt! (Thank you Sandi for sending your photo!)
I know that this Summer has been busy, but I also know that there were more than ONE Charity Quilt that got finished! So, I am including the Charity Quilt Challenge information one more time. I hope to see a photo of a charity quilt YOU completed soon!
Send your Charity Quilt Challenge photos to me at longarmu@aol.com by October 31, 2015. I will post the photos and the winner in the November newsletter.
---
Charity Quilt Challenge 2015
Quilters are some of the nicest and most generous people "out there!" We make, from start to finish, or quilt and / or bind, quilts that are donated to worthy causes or needy individuals. We make and donate these quilts with open hearts and with "no strings attached" to the receiving groups.
In 2013 we had the first Longarm University Charity Quilt Challenge and it was a HUGE success! So I thought, "let's do it again!"
Make or complete a quilt, or two, or more, and donate it to a charity of your choice. Send a photo of your quilt as an email attachment to longarmu@aol.com Please include your name, city and state, the name of the charity, and, if possible, the web address of the charity. I will post the photos on this website by late October.
Quilts can be made from UFO's (unfinished objects), WIP's (work in progress), PIGS (projects in grocery sacks) or even a quilt made specifically for this challenge! Also included in this challenge are quilts that you have quilted or completed for specific charities during the last two years.
There will be a drawing for a $50 Longarm University Gift Certificate from those who have sent photos.
In 2013 there was such a huge response that THREE Gift Certificates were awarded! Let's see if we can beat the 2013 record of photo responses.
BONUS!! For a FREE quilt pattern (with a video tutorial) that is quick and easy to make for a Charity Quilt Click Here
If you have any questions about the Charity Quilt Challenge 2015 please contact me at LongarmU@aol.com
Let's get busy and make some quilts for charity!
---
American Hero Quilts
Speaking of charities - my favorite charity is American Hero Quilts www.AmericanHeroQuilts.com
This project makes and distributes quilts to wounded service men and women. I have machine quilted many quilts for this great organization and over the last few weeks I have pieced several quilt tops which I hope to quilt very, very soon. American Hero Quilts are always looking for machine quilters - this is a great way to practice your quilting skills AND contribute to a worthy cause. If you don't have the time to piece or quilt for them, they could use your financial support.
My son-in-law is a career soldier and we are very fortunate that he has not been injured during his many deployments overseas. Please, if you have some time, consider making, or quilting, a quilt for the American Hero Quilt Project www.AmericanHeroQuilts.com
Our wounded soldiers, both men and women, need YOUR quilts and your quilting skills.
---
Traveling Classes
Longarm U is traveling to Nebraska in February!
On February 21 & 22, 2016, I will be teaching in Fremont, NE.
I will be teaching my Basic Free Hand Feathers Class (the same as the class above but a LOT, LOT more!) and my Free Hand Samper Class
There are still spaces left in these classes, but space is limited!. Contact the Class Coordinator, Nancy vonSeggern at go2quiltit@gmail.com for class details.
Come join the fun for one or two days of quilting fun!
---
Upcoming Workshops
As the year winds down, there is only one more workshop scheduled for 2015. Here are the details.
The Basics of Machine Quilting, four day workshop
November 13 - 16, 2015
In this workshop you will learn the basics of how to use your quilting machine (see above) AND we talk about how to start a machine quilting business. There are two other instructors in this class and you get to see a variety of quilting styles and learn how they run their businesses. We also do some fun quilting projects too! For more information on this four day workshop Click Here
---
Machine Quilting Business Blog
If you have a machine quilting business or are thinking of starting one, you NEED to check out this Blog and feel free to leave comments and suggestions for topics to discuss. Feel free to subscribe to this blog and you will receive an email every time something new is posted.
To view the Machine Quilting Business Blog Click Here
Cindy Roth has her own personal blog. To check out what is happening in Cindy's world Click Here
---
Machines for Sale
The Machines for Sale page has been updated with many new listings. If you are looking for a used longarm quilting machine, please check out this page by Clicking Here
You can sign up to receive an email alert when a new Machines For Sale ad has been posted.
To sign up for this Free service Click Here
---
My Thoughts
It is hard to believe that Summer is over and Fall has officially begun! The days are getting shorter and it is cooler during the day. So far, here in the Northwest we haven't had any major storms, but I know that they are coming!
With the cooler days and nights, more quilts are being put on beds and on the couches and chairs to snuggle into.
Now that things have settled down and the kids are back in school and the "regular" routine has begun again, we can begin to start working on quilts.
If you quilt for yourself and family, maybe you will be working on quilts as gifts for the holidays - which are coming up quickly.
If you quilt for customers, you KNOW this is your busy time of the year!
I know it is sometimes hard to take care of ourselves, but take some time off - even if it is just an afternoon - and enjoy a day of warm(er) weather and look at the beauty of the leaves changing.
Maybe you can bake some pumpkin bread or a pumpkin pie. I love the way the house smells when baking with cinnamon and pumpkin pie spices.
As I am writing this, Hurricane Joaquin is still developing and has not yet gone onshore. To all my East Coast quilting friends and family, take care of yourselves and your families and stay safe.
I'm going to keep traveling and teaching, working on websites and of course quilting - for myself and others!
Enjoy early Fall!
---