SPRING 2017 Newsletter
---
---
---
SPRING is Here???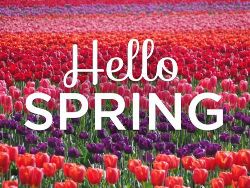 The calendar says mid-May, but here in the Pacific Northwest it is still cold, wet and dreary. I KNOW Spring is here - there are a few trees and flowers blooming - but the sky and the rain keep saying Winter!
At this moment (8 am) it is 48 degrees outside and my furnace is on. The weather people keep saying the weather will warm up, but I'm not too sure!
There was one day last week where it was sunny and warm-ish outside and I took the opportunity to (finally) cut my grass in the front yard. I worked nearly four hours to get the front yard looking presentable. And here is the photo to show a little bit of my progress! Click on the photo for a larger view.
There is still a lot of work to do, but at least I got the first grass cutting done. I just have to wait for better weather before I tackle the back yard!
PS - Woo Hoo!! The weather has changed and it is WARM outside!! It is going to be warm for the Memorial Day weekend. The weather people say that this will be the warmest Memorial Day in 20 years! I am SO ready for warm weather - and so is my garden!
---
---
Feather Frenzy - Online Classes & DVD's
If you have ever wanted to learn how to make feathers or how to make a feathered heart wreath, these two online classes are for you!
Basic Free Hand Feathers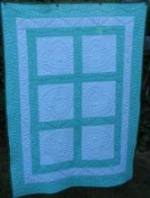 In the Basic Free Hand Feathers class you will (literally) look "over the shoulder" as two students learn how draw, then quilt, the traditional longarm feather. After learning the basic feather shape, learn how to make simple, yet very effective and beautiful feather borders and sashings.
Click on any photo for a larger view and slide show.
In this online class, you will also receive the piecing instructions for the quilt shown at the left. You can quilt along with the students in the class and make your own feathered quilt!
Two feather designs are featured in this class - the Straight Edge feather and the More Bang for the Buck feather. The photos below show these versatile designs.
Note: The Heart Feathered Wreath design is made using the Heart Feather Guide template set. For details Click Here
This class is recommend for quilters of all skill levels!
When you enroll in this online class, you will be sent, at NO additional charge, a DVD of this class!
For information and to enroll in the Basic Free Hand Feathers class Click Here
---
9 Patch Hearts Quilt Online Class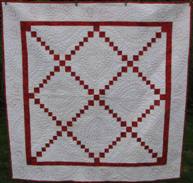 In the 9 Patch Hearts Quilt class, you will learn how to make a Feathered Heart Wreath using the Longarm University Heart Feather Guide.
Click on the photo for a larger view and a slide show.
The Heart Feather Guide is the Template of the Month. For details Click Here
This simple piecing instructions for this quilt top are included in the class along with ALL the quilting instructions on how to quilt the wonderful Feathered Heart pattern in 2 different sizes!!! The fill in quilting - all feathers - is done free hand!
You will be amazed at how nice this quilt looks when it is finished and by what you will learn in this class!
For more details and to enroll in the 9 Patch Hearts Quilt online class Click Here
Remember - When you enroll in this online class, you will be sent, at NO additional charge, a DVD of this class!
---
---
Template of the Month - Heart Feather Guide
This template set works with ALL brands of quilting machines with a workspace of about 13 inches.
Also included with the Heart Feather Guide template set are piecing and quilting instructions to make a Feathered Heart Sampler Quilt. Click on the photos below for a larger view and a slide show.
For more details and photos of the Heart Feather Guide Click Here
---
---
What's in YOUR Workroom?
In the last newsletter - way back in January - I posted photos of my work room and asked for photos of your workroom. I had a few brave people send photos. These people shall remain nameless and here are their photos.
To view photos of my workroom Click Here
I need YOUR help! In the last newsletter, I said that I would award a $50 Longarm U / Longarm Classroom Gift Certificate to someone who sent their workroom photos. I truly can't decide who to award the Gift Certificate to!
At the bottom of each of the sets of photos below is an email link. If you would like to vote for that person and their photos, click on the link and send me an email.
The person with the most email responses will receive the Gift Certificate.
If you would like to have photos of your workroom put into this newsletter, send them to me as email attachments to longarmu@aol.com
---
This first set of photos comes from "M". She writes -
"Cindy, I knew we were kindred spirits! This is a great idea and a confirmation the great things really can come from chaos!"
Photo #1 - This is the right side of my fabric storage closet before I cleaned it up. As you can see I couldn't get in to it! I'm standing at the door!
Photo #2 - The left side of the closet
Photo #3 - This is my sewing desk where I should have a space to sit and place fabric to sew. The right lower side shows a corner of my sewing machine (covered).
To vote for "M" send an email to longarmu@aol.com
---
The following photos are from "G" -
To vote for "G" send an email to longarmu@aol.com
---
The last set of photos are from "J" -
To vote for "J" send an email to longarmu@aol.com
---
---
Free Hand / Free Motion Books
In the last few month there have been several new Free Hand / Free Motion books published by "main stream" publishers - and I am so excited about this!
Longarm U is now carrying three of these new books -
Click on the links below the photos for more information on each of these books. Or, Click Here for more information.
All these books have great drawings and photos of quilts and designs. These books WILL inspire you!
---
---
Borders, Borders, Borders!
I have posted this information in the past, but it bears repeating!
One of the biggest problems that professional machine quilters run into are bad borders on a quilt! Even if you only quilt for yourself, if the borders are not applied properly, you can have quilting problems!
I have written about Wonky Borders in the past (to view the Wonky Borders page Click Here) and now I have made a video on how to apply borders to a quilt.
In my FREE video "How to Put Borders on a Quilt", I show you step-by-step how to measure, cut, mark and sew the borders so that your quilt lays nice a flat and smooth. If you have had problems with wavy or puckered borders, this video is for YOU!
---
---
Traveling Classes
Longarm U will be traveling to Alamo, TX (which is near McAllen, TX) in June.
For information on my Texas classes contact the Class Coordinator, Renee Darkis, reneedarkis@hotmail.com
I will be teaching Free Hand Sampler on June 8, Basic Free Hand Feathers on June 9 and giving a presentation to the local quilt guild on Saturday, June 10.
It doesn't take much to host a class and there are LOTS of benefits. For information about hosting my Traveling Longarm Classes contact me at longarmu@aol.com
---
---
Upcoming Workshops
If your goal this Spring or Summer is to learn how to use your quilting machine, then this is the time to plan on attending a Longarm U workshop!
This workshop covers the basics of using your quilting machine - working from the back of the machine to quilt pantographs (the easy way), border and block patterns, and working from the front of the machine creating free hand designs. Note: no business information is discussed in this class. For more details on this two day workshop Click Here
In this workshop you will learn the basics of how to use your quilting machine (see above) AND we talk about how to start a machine quilting business. There are two other instructors in this class and you get to see a variety of quilting styles and learn how they run their businesses. We also do some fun quilting projects too! For more information on this four day workshop Click Here
---
---
Quilters Cruise to Alaska
A quilting friend is teaching piecing classes on a Quilters Cruise to Alaska, August 26 - September 5, 2017.
What could be better than cruising the Inside Passage and quilting - and you don't have to cook!!!
For more information about this exciting adventure Click Here
---
---
American Hero Quilts
My favorite charity is American Hero Quilts www.AmericanHeroQuilts.com
This project makes and distributes quilts to wounded service men and women. I have machine quilted many quilts for this great organization and over the last few weeks I have pieced several quilt tops which I hope to quilt very, very soon. American Hero Quilts are always looking for machine quilters - this is a great way to practice your quilting skills AND contribute to a worthy cause. If you don't have the time to piece or quilt for them, they could use your financial support.
My son-in-law is a career soldier and we are very fortunate that he has not been injured during his many deployments overseas. Please, if you have some time, consider making, or quilting, a quilt for the American Hero Quilt Project www.AmericanHeroQuilts.com
Our wounded soldiers, both men and women, need YOUR quilts and your quilting skills.
---
---
Machine Quilting Business Blog
If you have a machine quilting business or are thinking of starting one, you NEED to check out this Blog and feel free to leave comments and suggestions for topics to discuss. Feel free to subscribe to this blog and you will receive an email every time something new is posted.
To view the Machine Quilting Business Blog Click Here
Cindy Roth has her own personal blog. To check out what is happening in Cindy's world Click Here
---
---
Machines for Sale
The Machines for Sale page has been updated with many new listings. If you are looking for a used longarm quilting machine, please check out this page by Clicking Here
You can sign up to receive an email alert when a new Machines For Sale ad has been posted.
To sign up for this Free service Click Here
---
---
My Thoughts
I have been working on this newsletter for several weeks and thinking about it for several weeks before I began working on it! It seems that "life" seems to get in the way of doing things. Even fun things, like quilting!
But, by working on things, sometimes just a little at a time, the job gets done.
Which reminds me of one of my favorite sayings - How do you eat an elephant? One bite at a time!
And this saying is perfectly appropriate for quilting, both for piecing and for the quilting.
How many times have you looked at a complex quilt pattern / design and thought - there is NO way I could ever do this? (This is the elephant.) Then you look at the pattern and begin "analyzing" the elements (this is the bites) and begin to see that you really CAN do the complex pattern / design!
Sometimes, if you want to do a project bad enough, you may have to learn a new technique or a new way of doing an old technique, (more bites) but you persevere!
When you are finally finished with the project (eating the elephant) you feel wonderful! And usually think, "that wasn't too bad. Why was I so scared of it. Let's do it again!"
This Spring, and into the Summer, let's challenge ourselves to do something (the elephant) - maybe not even quilting related - figure out the steps on how to do it (taking the bites), and get it done (eating the elephant).
If you would like to write to me about your "Elephant Challenge" send me an email at longarmu@aol.com and I will post your challenge in the next newsletter.
Have a wonderful SPRING and a fabulous early Summer!
---