Madeira Threads
---
Solid Colors Variegated Colors Other Things Shipping
---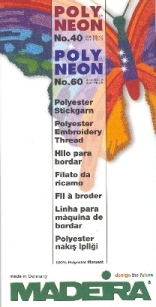 Madeira High Sheen Polyester thread is 100% polyester, 40 weight thread. It is strong and easy to work with. This thread has the sheen of rayon but the strength of polyester. The metallic colors contain no metal thread, but look like expensive metallic thread and your customers won't know the difference! Because it is easy to work with, you should not have the thread breakage problems like you do with a true metallic thread. Another advantage is that you can use this thread in your bobbin, giving the metallic thread look to both the top and back of your quilting. If you do decide to use a true metallic thread on your quilt, use this thread in the bobbin.
The non metallic colors give a special sheen to any project. I have used the white high sheen polyester thread on a white on white fabric with great results. The Peachy Beige (#1723) thread used on un-bleached muslin gives a great effect to plain fabric.
Note: I have quilted whole cloth trapunto quilts with the Peachy Beige thread and un-bleached muslin for spectacular results!
Cindy's Suggestion: The first time you use this thread, wind only half a bobbin and thread your machine as you normally do. Begin quilting on a test quilt in your favorite pattern.
With most quilting machines you should not have to "tweak" the tension. But, if it is necessary to adjust your tension, tighten your bobbin tension slightly. This thread is much finer and "slicker" than regular cotton quilting thread. I have a bobbin case that is dedicated to using only high sheen polyester thread.
---
**** Because of scanning and monitor differences,
the colors shown below may not exactly match to the
color of the actual spools of thread.****
---
Solid Colors
All Solid Color thread shown below is 100% polyester on a 5,000 meter cone
This is over 3 miles of thread!!!
Price: $15.95 per cone


Silver
1611



Medium Gold
1625



Beige
1656



Peachy Beige
1723



Bright Gold
1725



Light Copper/Bronze
1753



Dark Copper
1773



Old Gold
1792



Black
1800



White
1801



Copper/Bronze
1856



Neon Pink
1908



Light Bronze
1928









Variegated Colors
All Variegated thread shown below is 100% polyester on a 5,000 meter cone
This is over 3 miles of thread!!!
Price: $25.95 per cone (Regular retail price: $29.95 per cone)
NOTE: The variegation is short, giving an almost mottled look to the thread. The colors are awesome! I use this thread in the top and bobbin. You won't believe how great this thread looks when quilted. If you like "thread painting" the sky blue variegated (1601) makes great sky colors and the Ocean Green variegated (1608) makes great ocean colors.


Autumn Splendor
1600



Sky Blues
1601



Pastel Greens
1602



Vibrant Pastels
1603



Muted Vibrant Pastels
1604



Light Rainbows
1605



Light Blues to Silver
1606



Muted Blues
1607



Ocean Greens
1608



Muted Rainbows
1609

Thread Shipping Policy
When you order any products via our secure web-cart, you will be charged a shipping fee for each item ordered. We will re-calculate the shipping charges to the lowest fee for your order and adjust your final shipping amount.
Example: A package which weighs 2 pounds 5 ounces, will cost about $13 to ship to the East Coast from Seattle, WA. The same package, shipped to California will cost about $8. No matter what shows on your Shopping Cart receipt, when processing your order, we will adjust the cost of postage to the lowest amount possible.
International Orders: Shipping to orders outside of the US will be SIGNIFICANTLY higher and charged accordingly. For International Orders over $100 (USD) Longarm U will pay HALF of the shipping fees.
If you have any questions on the cost of shipping, send an email, listing the item(s) you want to order along with your zip code to longarmu@aol.com and we can give you an estimate of your shipping costs.
---
Other products to help make quilting easier
Sewers Aide, Amazing Tape, Fray Check and Applicator Bottle
Specialty Thread Holder