Heart Feather Guide Templates
About Photos Heart Feather Guide Templates Shipping
---
Every quilt has a story and every professional longarm quilter has a story about the frustrations and problems they have completing a quilt. Many times these stories are not about major problems—like taking out the stitching from a half completed quilt (Ask me how I know this!!) but minor frustrations that take up valuable time.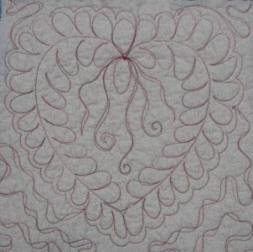 From the minor frustrations I have experienced working with templates in general and feathers in particular, I have created the HEART Feather Guide Template set.
Let's go back in time a little bit - several years ago I created the Feather Guide Circle Templates which make fabulous circle feathered wreaths. As I was working with these templates I wondered if there were other shapes that could be made into feather guides to make other feather shapes. I worked with this idea for a long time and finally created the HEART Feather Guide Template Set.
This Two Piece Template Set makes an amazing FOUR different sizes of heart shapes:
12 inches wide, 12 inches long
9 inches wide, 9 inches long
6 inches wide, 6 inches long
3 inches wide, 3 inches long
All of the heart shapes can be quilted with feathers - in many different ways. The number of variations of feathered hearts you can make is nearly limitless! You can even use the HEART Feather Guide Template Set to create wonderful heart borders!
Look at the photos below Click Here and see what can be created!
As with every Longarm University template, along with the template set you will receive a photo illustrated, step by step, instruction manual on how to use these templates.
This template set works with ALL brands of quilting machines with a minimum workspace of about 13 inches.
To view a FREE video Mini Class on this template set Click Here
For a FREE online video class on how to make a Feathered Heart Wreath Table Runner Click Here
For information about the Super Dooper Template Offer Click Here
Below are some photos of some of the feathered heart wreaths you can make with the new, HEART Feather Guide Template set.
I quilted these feathered hearts on a scrappy 9 Patch quilt, in a 13 inch block.
Click on any photo for a larger view and a slide show.
Note: All heart measurements are at their widest part and their length.
---
---
The photos below are from a Sample Quilt which shows many of the feathered heart designs you can create from this amazing template!
BONUS!! The instructions for this quilt are included in the Feather Heart Guide Instruction Manual.
Click on the photos for a larger view and slide show.
---
All of the Longarm University templates are unconditionally guaranteed! If you are not satisfied with your templates, send them back and I will even pay for the return postage.
I want you to be TOTALLY happy with your templates!
Check out the 9 Patch Hearts Quilt DVD using the Feather Guide Template Set. For details Click Here
---
Heart Feather Guide Template Set
The Heart Feather Guide Template is a two piece template set.
Each Template is laser cut from 1/8 inch and 1/4 inch acrylic and can be used on ALL quilting machines. A minimum 13 inch workspace is needed to use these templates
Step-by-Step photo illustrated instructions are included!
To view a FREE video Mini Class on this template set Click Here
---
Heart Feather Guide Template Set
---
---
9 Patch Hearts Quilt DVD
Learn how to create this stunning quilt using the Longarm U Heart Feather Guide Template Set
This DVD comes with complete, step by step instructions to not only piece the class quilt project but also to quilt ALL the elements in this quilt.
Click on the photos below for a larger view and a slide show.
---
---
9 Patch Hearts DVD
Shipping is included in DVD price
---
Longarm University Shipping Policy
When you order any products via our secure web-cart, you will be charged a shipping fee for each item ordered. We will re-calculate the shipping charges to the lowest fee for your order and adjust your final shipping amount.
Example: A package which weighs 2 pounds 5 ounces, will cost about $13 to ship to the East Coast from Seattle, WA. The same package, shipped to California will cost about $8. No matter what shows on your Shopping Cart receipt, when processing your order, we will adjust the cost of postage to the lowest amount possible.
International Orders: Shipping to orders outside of the US will be SIGNIFICANTLY higher and charged accordingly. For International Orders over $100 (USD) Longarm U will pay HALF of the shipping fees.
If you have any questions on the cost of shipping, send an email, listing the item(s) you want to order along with your zip code to longarmu@aol.com and we can give you an estimate of your shipping costs.