Books from Longarm U
Cindy Roth has been a professional longarm quilter for over 20 years. She has seen the machine quilting profession grow from a small number of quilters using a handful of simple edge to edge (pantograph) patterns to the quilters of today who create stunning works of art with their longarm quilting machines.
Cindy has written several books to help other longarm quilters on their journey to become more skilled quilters and to help their quilting businesses become more profitable.
Cindy's books are listed below. Click on the highlighted text to view the descriptions of the books.
Other books by Cindy Roth elsewhere on this website
---
Other Books You May Enjoy
---
Free Hand Sampler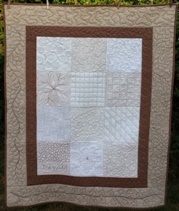 Would you like to begin your quilting journey into Free Hand quilting? Would like to learn new Free Hand quilting designs including border designs? Do you like making Sampler Quilts?
Cindy Roth has designed a super simple Sampler quilt (piecing instructions are included) and then shows you, step by step, how to quilt it with over 24 different Free Hand quilting designs.
Included with the Free Hand Sampler book are two Practice Boards! These laminated pages will allow you to draw on them with a Vis-a-Vis or dry erase marker. Practice your free hand designs before stitching them on your quilt.
To view more photos of the Free Hand Sampler Book Quilt Click Here
To view photos of the Practice Boards Click Here
For a sample design from this book Click Here
Free Hand Sampler Book
30 pages, comb bound book AND
Two (2) Laminated Practice Sheets
---
NEW!! Free Hand Sampler V-2 Online Video Class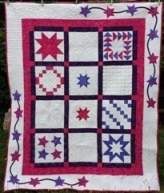 Over the last few months, I have worked on updating my Free Hand Sampler and now the NEW Free Hand Sampler V-2 online video class is OPEN!
In this online class there are over 56 different free hand patterns / designs that YOU can quilt!!
This online class is on the Longarm U "sister" website Longarm Classroom.
For details on this NEW online class including photos of the 56 free hand designs Click Here
---
---
Continuous Curve for the Double Wedding Ring Quilt
Continuous Curve for the Double Wedding Ring Quilt
---
---
Continuous Curve for the Lone Star Quilt
Also included are many tips and tricks to make quilting this traditional design easier and more efficient.
To view photos of a Lone Star quilt that have been quilted with Continuous Curves Click Here
Continuous Curve for the Lone Star Quilt
---
---
Cindy's Three Book Special Offer!
Purchase the THREE books, Free Hand Sampler with Practice Sheets, Continuous Curve for the Double Wedding Ring Quilt, and Continuous Curve for the Lone Star Quilt for only $45.85!!
If you purchased each of these books separately, it would cost $55.85! By purchasing them together, you save $10!!
Cindy's THREE Book Special Offer!!
---
---
Free Hand / Free Motion Quilting Books
Click on any photo for a larger view and slide show
---
180 Doodle Quilting Designs
compiled by Karen M. Burns
128 pages
---
Get Addicted to Free Motion Quilting
Sheila Sinclair Lewis
64 pages
---
Step-by-Step Free Motion Quilting
Christina Cameli
192 pages
---
Longarm University Shipping Policy
When you order any products via our secure web-cart, you will be charged a shipping fee for each item ordered. We will re-calculate the shipping charges to the lowest fee for your order and adjust your final shipping amount.
Example: A package which weighs 2 pounds 5 ounces, will cost about $13 to ship to the East Coast from Seattle, WA. The same package, shipped to California will cost about $8. No matter what shows on your Shopping Cart receipt, when processing your order, we will adjust the cost of postage to the lowest amount possible.
International Orders: Shipping to orders outside of the US will be SIGNIFICANTLY higher and charged accordingly. For International Orders over $100 (USD) Longarm U will pay HALF of the shipping fees.
If you have any questions on the cost of shipping, send an email, listing the item(s) you want to order along with your zip code to longarmu@aol.com and we can give you an estimate of your shipping costs.
---
---