SPRING 2016 Newsletter
---
---
Welcome SPRING!!
In the Pacific Northwest, the last few weeks have been fabulous!!! There has been many record breaking WARM and sunny days. Many Spring plants are blooming and growing and my car is covered with a thick layer of pollen every morning.
Even though it may be warm during the day in the Northwest, in the evening, as soon as the sun goes down, it is cool again. Which is a perfect time to snuggle under a quilt!
I know that other parts of the US have been having record snow and rain and Spring looks a long way away. Soon, warm weather and sunshine will be where you are! Keep those quilts handy - it still is long way until hot Summer nights!
---
Daffodils in Bloom Quilt - DVD of the Month!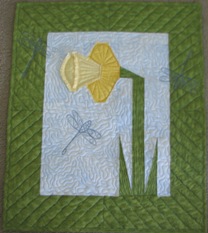 Keeping in the "Spirit of Spring" here is my Daffodils in Bloom quilt. This is a quick quilt to piece and to quilt.
Even though there are some "interesting" triangles in the piecing, you don't need any special cutting tools! I have found a way to make these triangles using a fold and press method.
There is even a free video showing how to create these triangles. To view the video Click Here
The quilting is equally easy! Simple squiggle lines are used in the border and "caffeinated quilting" is used for the background quilting.
Then, a little bit of detail quilting on the flower and a few quilted dragonflies (no, you don't need to be an artist to quilt the dragonflies!) and the quilting is done! And the finished quilt looks spectacular!
To view the details about the Daffodils in Bloom online class Click Here
Click on any photo for a larger view and a slide show
Included in the DVD is the piecing pattern - which has FOUR different sizes of projects
King Size Quilt, 94 x 94 inches, 28 Daffodils
Twin Size Quilt, 68 x 72 inches, 15 Daffodils
Banner / Table Runner, 29 x 59 inches, 4 Daffodils
Small Wall Quilt, 23 x 28 inches, 1 Daffodil
You can now have SPRING - and Daffodils - at any time of the year!
---
Spring Quilt Challenge
Since we are talking SPRING - do YOU have a Spring Themed quilt? Send a photo of it and a brief description to longarmu@aol.com by May 15, 2016 and I will post the photos by May 18th!
There will be a random drawing from all that have submitted photo(s) and the prize will be a Daffodils in Bloom online class and DVD!
Find those Spring Quilt photos and send them in!!
---
Longarm Classroom Website
The Longarm U sister website Longarm Classroom is still in the process of being re-built.
More and more classes are being added to the website! Woo Hoo!!! I got the class registration system working!!! It took time (a lot longer than I thought it would) and there may be a few kinks in it, but in 99.9% of the testing I have done with the new system works just fine!
The FREE Classes and several of the Pay Classes are now connected to the new online registration system.
Please take some time and look around the NEW Longarm Classroom website. In my humble opinion, it is looking pretty darn good and getting better!
---
Basic Machine Quilting DVD Special Offer
One of THE basics of machine quilting is knowing how to quilt pantographs! If you can quilt pantographs well, you can start a machine quilting business!
Did you know that you can quilt borders and blocks from the back of the quilting machine, just like you do pantographs? It's not hard and by quilting "separate" borders you can bring your quilting up a notch. If you are quilting for others, separate borders are considered "custom" quilting, for which you can charge more $$$ for your work.
Even if you don't quilt for other people, by learning these techniques, YOUR quilts will look great!
I have a Special Offer for the DVD's, How to Quilt a Pantograph and Borders, Corners & More, that will show you the EASY way to learn how to work from the back of your machine.
For details on this "working from the back of the machine" Special Offer Click Here
---
Borders, Borders, Borders!
One of the biggest problems that professional machine quilters run into are bad borders on a quilt! Even if you only quilt for yourself, if the borders are not applied properly, you can have quilting problems!
I have written about Wonky Borders in the past (to view the Wonky Borders page Click Here) and now I have made a NEW video on how to apply borders to a quilt.
In my NEW, FREE video "How to Put Borders on a Quilt", I show you step-by-step how to measure, cut, mark and sew the borders so that your quilt lays nice a flat and smooth. If you have had problems with wavy or puckered borders, this video is for YOU!
---
Free Hand Sampler V2
If you watched the video "How to Put Borders on a Quilt" you will see the quilt that will be in the NEW video Free Hand Sampler V2
I wrote the original Free Hand Sampler book way back in 2001! (I can't believe it was15 years ago!) Machine quilting has change a LOT since then, and so has free hand quilting! This new version - V2 - has MANY new free hand quilting designs and lots of different ways to use them!
I have already started on the video and hope to have it completed in the next few weeks.
Here are some photos from the V2 sample quilt.
---
Click on any photo for a larger view and slide show.
---
To get started, I will be posting the piecing instructions for the class project - for FREE - in a few days. That way you can have YOUR class project ready to be put on the machine and quilted!
I will be putting this class online on the Longarm Classroom website and offering it as a DVD. When everything is ready, I will let everyone know!
To view information on the original Free Hand Sampler book and Practice Boards Click Here
---
Thread Grab Bag
A few months ago I was able to acquire a fairly large stash of thread from a local quilter who, due to a divorce, had to dissolve her quilting business.
I am offering these threads in a "Thread Grab Bag". All the cones of thread have been used. Some cones are gently used and some cones have been used a lot. There is a combination of 30 and 40 weight threads, cottons, polys and some that are unmarked.
I am putting as many cones as I can into a 6 x 6 x 6 mailing box for one LOW price.
If you like a surprise and want a good value, this is for you!
For details on the Thread Grab Bag Click Here
---
Traveling Classes
In late March I traveled to Northern California and taught classes for a few days near Sacramento. I had a WONDERFUL time and met some great and talented quilters.
I am planning on traveling to the South, hopefully Atlanta, GA and other Southern locations this summer and early Fall.
If you would like to host my traveling classes please send an email to longarmu@aol.com
All my family is in the Northern Illinois area and I would love to visit with them this summer. If you are in that area, or up to a day's drive away, I can teach in your area. If you are interested in hosting a class or two, send an email to the address above.
It doesn't take much to host a class and there are LOTS of benefits. For information about my Traveling Longarm Classes Click Here
---
Upcoming Workshops
If your goal this Spring or Summer is to learn how to use your quilting machine, then this is the time to plan on attending a Longarm U workshop!
This workshop covers the basics of using your quilting machine - working from the back of the machine to quilt pantographs (the easy way), border and block patterns, and working from the front of the machine creating free hand designs. Note: no business information is discussed in this class. For more details on this two day workshop Click Here
In this workshop you will learn the basics of how to use your quilting machine (see above) AND we talk about how to start a machine quilting business. There are two other instructors in this class and you get to see a variety of quilting styles and learn how they run their businesses. We also do some fun quilting projects too! For more information on this four day workshop Click Here
---
American Hero Quilts
My favorite charity is American Hero Quilts www.AmericanHeroQuilts.com
This project makes and distributes quilts to wounded service men and women. I have machine quilted many quilts for this great organization and over the last few weeks I have pieced several quilt tops which I hope to quilt very, very soon. American Hero Quilts are always looking for machine quilters - this is a great way to practice your quilting skills AND contribute to a worthy cause. If you don't have the time to piece or quilt for them, they could use your financial support.
My son-in-law is a career soldier and we are very fortunate that he has not been injured during his many deployments overseas. Please, if you have some time, consider making, or quilting, a quilt for the American Hero Quilt Project www.AmericanHeroQuilts.com
Our wounded soldiers, both men and women, need YOUR quilts and your quilting skills.
---
Machine Quilting Business Blog
If you have a machine quilting business or are thinking of starting one, you NEED to check out this Blog and feel free to leave comments and suggestions for topics to discuss. Feel free to subscribe to this blog and you will receive an email every time something new is posted.
To view the Machine Quilting Business Blog Click Here
Cindy Roth has her own personal blog. To check out what is happening in Cindy's world Click Here
---
Machines for Sale
The Machines for Sale page has been updated with many new listings. If you are looking for a used longarm quilting machine, please check out this page by Clicking Here
You can sign up to receive an email alert when a new Machines For Sale ad has been posted.
To sign up for this Free service Click Here
---
My Thoughts
Spring seems to be a time of extremes! Either it is snowing and cold, or it is warm and wonderful! On Monday it can be warm and on Friday there is three inches of snow. It is as if Mother Nature doesn't know what is going on!
Eventually the weather, and life, settles down and we can all enjoy Summer!
Between working on the Longarm Classroom website and the new Free Hand Sampler Quilt class, and doing "Granny Nanny" duty every once in a while, I have had hardly any time to get outside and enjoy the Spring days while they are here.
So, take some time out of your schedule, and when a nice Spring day arrives in your area, go outside and enjoy the sunshine and the warmth and the wonderful Spring smells!
I don't usually tell people to take time off from quilting, but there are times - and a wonderful Spring Day is a great reason - to take some time off from quilting and enjoy the weather.
Have a wonderful SPRING!
---