January 2017 Newsletter
---
---
Welcome 2017!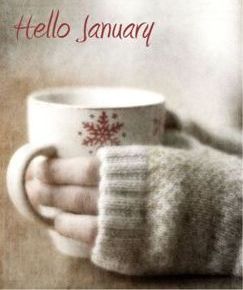 The rush of the holidays is over and hopefully life has settled down and is back to normal!
Click on any photo for a larger view and a slide show.
Winter is starting out with a bang with most of the country having heavy rains, lots of snow, ice storms and cold, cold weather! (Except for you lucky people who live in the South or Southwest!) I hope everyone stays safe and warm and are making lots of quilts! And of course, after making all those quilt tops, they need to be quilted!
I hope you will find some inspiration in this newsletter to help you to start quilting a project or to complete a quilt you have already started.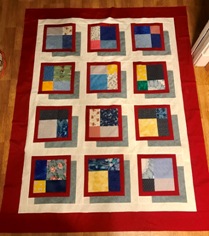 For me, this is a fairly quiet time of the year and I like to work on a project "just for me." Sometimes I will piece something I have been wanting to do for a while, or sometimes I will finish a project I started a long time ago.
I completed this quilt a few days ago. The blocks were from a project I did at least 10 years ago and all the other fabrics came from my stash. I have wanted to make a "shadow quilt" for a while - and now I can say that I did. I will be quilting it soon and then I will donate it to charity!
For a YouTube video on how to make the Illusion Quilt from the Missouri Star Quilt Company Click Here
Take some time from your busy life and make something for yourself or for a charity!
Let's just hope that Winter 2017 isn't too brutal and that all quilting friends come through it with no major problems and with lots of new quilts, both quilted and un-quilted!
---
2017 New Year's Day Mystery Quilt &
Class of the Month
The Mystery Quilt for 2017 is the Little Bit Quilt. The Little Bit Quilt is also the Class of the Month for January!
The piecing pattern is based on the traditional 54 - 40 or Fight block and the quilting is "little bits" of traditional, modern and slightly funky quilting!
ALL the quilting is done FREE HAND including the curves! Yes, YOU can do this - you DON'T have to be a "perfect" quilter to quilt this quilt.
There are special instructions in this class if your working on a quilting machine that has a smaller throat / workspace. With a smaller throat / workspace, the stitching sequence is slightly different and I show you exactly how to quilt your class project.
This class is OPEN and you can register for it at any time!
Here are some photos of my class project. Click on any photo for a larger view and slide show
To view more class photos and the details on the Little Bit Quilt class Click Here
Remember, when you register for this class you get 60 days of 24/7 access to the class video AND at NO additional charge a DVD and all printed material will be sent to you!
---
Template of the Month
Small Single Cable Template

The Small Single Cable Template is great for borders and sashings!
I know that this is one strange looking template! One curved edge of this template makes a Single Cable that measures 1 inch at its widest part and the other curved edge makes a Single Cable that measures 1-1/2 inches at it's widest part! Two sizes of cable for one price!
For complete details about this amazing template Click Here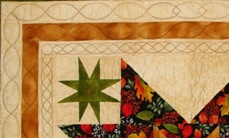 Here is a photo of a quilt I made using both sizes of the Single Cable in the small inner borders. Click on the photo for a larger view.
This template includes step by step photo illustrated instructions, an instructional DVD and there is a FREE online video class on how to use this template.
To view the Small Single Cable FREE online video class Click Here
---
What's in YOUR Work Room?
January, and the start of the New Year, is usually the time we sit back and look at all the things we did in the last year and think of things to do in the New Year. As quilters, we can usually tell what we have worked on by looking at our work rooms or work areas!
Some people have wonderful sewing and / or quilting rooms that are pristine and perfectly organized. Unfortunately, I'm NOT one of those people! And I probably never will be - and I'm OK with that.
To prove this, here are some photos of my work area and my fabric storage area.
I do most of my work at my dining room table. The first two photos show my dining room table with fabrics - pieces, scraps, bolts and pieced quilts - along with my laptop computer and DVD printer! Talk about a multi purpose table!
The third photo is one of my fabric storage racks in my fabric storage room - which used to be a bedroom!
Why am I showing you this? Because I want you to show me YOUR un-perfect work area or sewing / quilting room!
Send photos of your work / sewing / quilting room(s) with a description to me at LongarmU@aol.com and I will post them on the Longarm U website. Don't worry, I'll only post your first name. No one will know it is you!
If I can do this, you can do this!
From the photos that are submitted, there will be a random drawing and someone will win a $50 Gift Certificate from Longarm University / Longarm Classroom.
Who else is brave enough to show the world what your work / sewing / quilting room(s) really look like?
---
Thread Grab Bags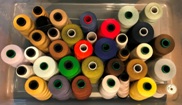 A while ago a local longarm quilter had to close her machine quilting business due to a divorce and she sold me her inventory of gently used thread.
The photo at the right shows the thread that is available.
I will put (stuff) as many of these gently used cones of thread into a 6 x 6 x 6 inch box all for a low, low, price. The colors and cones are randomly chosen and all sales of this thread are final.
The Thread Grab Bag is listed on the Sale Items page on the Longarm U website. Supplies are limited!
To view the Sale Items page Click Here
---
Fun Stuff!!

For Christmas, I made my Grandkids - and others - these quick and easy zippered pouches. I made a step by step photo tutorial of how I made these pouches and I have them posted on my personal blog.
To view the Easy Zippered Pouch photo tutorial Click Here
---
Upcoming Workshops
If one of your New Year's Resolutions was to learn how to use your quilting machine, then classes and workshops at Longarm U are for YOU!!
If you are thinking of starting a machine quilting business, check out the Beginning Longarm Quilting classes. Longarm U is the ONLY place where you will learn how to machine quilt AND how to run a machine quilting business.
If you want to quilt for yourself and maybe a charity, then the Just the Basics class is for you.
Make 2017 the year you learn how to use your quilting machine and to start quilting your (and maybe your friends) quilt tops!!
The Basics of Machine Quilting, Four Day Workshop
January 27, 28, 29, 30, 2017
In this workshop you will learn the basics of how to use your quilting machine (see above) AND we talk about how to start a machine quilting business. There are two other instructors in this class and you get to see a variety of quilting styles and learn how they run their businesses. We also do some fun quilting projects too! For more information on the January four day workshop Click Here
If you can't make it in January, the same class is scheduled on March 24 - 27, 2017 For details on the March four day workshop Click Here
Just the Basics, Two Day Workshop
February 18 & 19, 2017
This workshop covers the basics of using your quilting machine - working from the back of the machine to quilt pantographs (the easy way), border and block patterns, and working from the front of the machine creating free hand designs. Note: no business information is discussed in this class. For more details on this two day workshop Click Here
---
American Hero Quilts
Speaking of charities - my favorite charity is American Hero Quilts www.AmericanHeroQuilts.com
This project makes and distributes quilts to wounded service men and women. I have machine quilted many quilts for this great organization and over the last few weeks I have pieced several quilt tops which I hope to quilt very, very soon. American Hero Quilts are always looking for machine quilters - this is a great way to practice your quilting skills AND contribute to a worthy cause. If you don't have the time to piece or quilt for them, they could use your financial support.
My son-in-law is a career soldier and we are very fortunate that he has not been injured during his many deployments overseas. Please, if you have some time, consider making, or quilting, a quilt for the American Hero Quilt Project www.AmericanHeroQuilts.com
Our wounded soldiers, both men and women, need YOUR quilts and your quilting skills.
---
Machine Quilting Business Blog
If you have a machine quilting business or are thinking of starting one, you NEED to check out this Blog and feel free to leave comments and suggestions for topics to discuss. Feel free to subscribe to this blog and you will receive an email every time something new is posted.
To view the Machine Quilting Business Blog Click Here
Cindy Roth has her own personal blog. To check out what is happening in Cindy's world Click Here
---
Machines for Sale
The Machines for Sale page has been updated with many new listings. If you are looking for a used longarm quilting machine, please check out this page by Clicking Here
You can sign up to receive an email alert when a new Machines For Sale ad has been posted.
To sign up for this Free service Click Here
---
My Thoughts
In the New Year many of us take time to reflect on the past and make plans for the future.
Sometimes, weather determines what we will be doing - snow, cold and ice makes it so that we HAVE to stay home and hunker down. Sometimes, we make our own choice to "hibernate", even if the weather is warm, especially in the South and Southwest.
No matter what your "winter survival style" is, I hope you do some piecing, do some quilting and do something good for yourself!
Whether "being good to yourself" is a cup of hot gourmet coffee, a massage, a walk in the snow, a visit to your local quilt shop, a visit with friends, or anything else that makes you happy and relaxed, take the time to take care of yourself!
Stay warm, stay safe and keep on quilting!
---