February 2018 Newsletter
---
---
---
Happy February!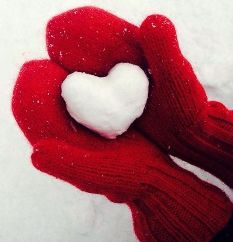 Happy February to all my Quilting Friends!!
Winter has it's grip on most of the country - if it is not cold and snowy, it is wet and windy!
The Ground Hog saw his shadow and there could be six more weeks of winter! If that is true, what better way to spend the rest of the winter than quilting!! Quilting - or piecing - quilts for family, for charity or even for yourself, is a great way to hunker down, survive the weather and wait for Spring!
The flu this year has been brutal! If you haven't gotten a flu shot, they say there is still time to get one, so get one NOW!! I got my flu shot and, fortunately I haven't got the flu, yet. I am keeping my fingers crossed that I don't. Also going around is a really nasty cold! Which I did get - and was sick with it for nearly two weeks!
Taking care of yourself is sometimes hard to do, especially if you have to take take care of others. Remember, if your sick, you may not be able to quilt - and that may be worse than being sick!!
---
---
Mystery Quilt Revealed!!
New Year's Day Mystery Quilt Event, Medallion Mania, was held on January 1, 2018. This year's quilt was a simple 2 Patch / 4 Patch quilt with lots and lots of "open" space for quilting! The "block" on this quilt is 34 inches!!
The quilting design, a fabulous, large medallion, is a combination of a 12 inch diameter and 6 inch diameter feathered wreaths! And the finished quilt is spectacular! Click on the photo at the left for a larger, more detailed view.
For details on this class and more photos of the quilts
Click Here
This class project also includes how to quilt to equally fabulous Feathered Baptist Fan Border design. /p>
You will learn how to make feathered wreaths THREE different ways, with the Longarm U Circle Feather Guide acrylic templates, with piecing plastic templates and with stencils! There are even stitching sequencing tips for those who have machines with smaller throats.
For details on the Circle Feather Guides Click Here
You have your choice of creating a Wall quilt, a Twin Size quilt or a larger Queen Size quilt with the wonderful Medallion design. (I made the Queen Size quilt and it is on my bed! It looks fabulous!)
This class is recommend for quilters of all skill levels with all types of machine - including home sewing machines!
You can enroll in this online video class at any time and you have 24 / 7 access to the video for 60 days!!
For details on this class Click Here
---
---
Templates of the Month - Heart Feather Guide
This template set works with ALL brands of quilting machines with a workspace of about 13 inches.
Also included with the Heart Feather Guide template set are piecing and quilting instructions to make a Feathered Heart Sampler Quilt. Click on the photos below for a larger view and a slide show.
For more details and photos of the Heart Feather Guide Click Here
---
---
Hearts, Hearts and more Hearts!!!
With Valentines Day fast approaching, now is the time to begin (or finish) a quilt or two with hearts on them! What a great way to show your love to your family, friends and others.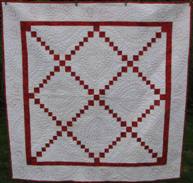 For a spectacular heart quilt, check out the 9 Patch Hearts Quilt online class. This class takes a simple 9 Patch / 4 Patch variation quilt and makes it fabulous with LOTS of feathered hearts quilted all over!
Click on the photo for a larger view
The hearts are made with the Heart Feather Guide template set (see above)
How about a table runner, or two, quilted with feathered hearts??
The Feathered Heart Table Runners are a FREE online class that is open to quilters of all skill levels. I show you step-by-step how to quilt the table runners with both the Heart Feather Guide templates AND how to quilt feathered hearts using a stencil.
No matter how you quilt these table runners, you have to admit, they look great!!!
For details on this FREE online class Click Here
If you would rather make a "plain" table runner and quilt it with your own designs or different heart designs, check out my blog post by Clicking Here. There is a FREE table runner pattern (pdf file) and some free hand quilting suggestions.
If you would rather quilt something smaller, how about Mug Rugs!!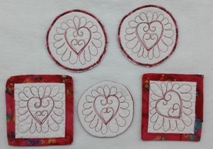 For a free tutorial on how to make heart mug rugs Click Here
All the quilting is done free hand and you can make a LOT of these mug rugs in very little time!
They make great gift for almost anyone!
Think about taking the time to make those you love and care for, something special for Valentine's Day this year!
---
---
Free Hand / Free Motion Books
In the last few month there have been several new Free Hand / Free Motion books published by "main stream" publishers - and I am so excited about this!
Longarm U is now carrying three of these new books -
Click on the links below the photos for more information on each of these books. Or, Click Here for more information.
All these books have great drawings and photos of quilts and designs. These books WILL inspire you!
---
---
Upcoming Workshops
If your goal this Spring or Summer is to learn how to use your quilting machine, then this is the time to plan on attending a Longarm U workshop!
This workshop covers the basics of using your quilting machine - working from the back of the machine to quilt pantographs (the easy way), border and block patterns, and working from the front of the machine creating free hand designs. Note: no business information is discussed in this class. For more details on this two day workshop Click Here
In this workshop you will learn the basics of how to use your quilting machine (see above) AND we talk about how to start a machine quilting business. There are two other instructors in this class and you get to see a variety of quilting styles and learn how they run their businesses. We also do some fun quilting projects too! For more information on this four day workshop Click Here
Are intimidated about working from the front of the quilting machine and doing free hand quilting? Are you afraid of feathers? Do you have trouble choosing which free hand designs will look "right" on your quilt? If you answer YES to any of these questions, or you just want to learn more about free hand quilting, the Free Hand Weekend is what you need!
This class is two days of intense quilting! You will learn MANY new quilting designs and how to use them on your quilts! For example, did you know that you can do a free hand blanket stitch with your quilting machine? Attend this class and you will learn how!
For more information about this class Click Here
---
---
American Hero Quilts
My favorite charity is American Hero Quilts www.AmericanHeroQuilts.com
This project makes and distributes quilts to wounded service men and women. I have machine quilted many quilts for this great organization and over the last few weeks I have pieced several quilt tops which I hope to quilt very, very soon. American Hero Quilts are always looking for machine quilters - this is a great way to practice your quilting skills AND contribute to a worthy cause. If you don't have the time to piece or quilt for them, they could use your financial support.
My son-in-law is a career soldier and we are very fortunate that he has not been injured during his many deployments overseas. Please, if you have some time, consider making, or quilting, a quilt for the American Hero Quilt Project www.AmericanHeroQuilts.com
Our wounded soldiers, both men and women, need YOUR quilts and your quilting skills.
---
---
Machine Quilting Business Blog
If you have a machine quilting business or are thinking of starting one, you NEED to check out this Blog and feel free to leave comments and suggestions for topics to discuss. Feel free to subscribe to this blog and you will receive an email every time something new is posted.
In my last blog post I challenged quilters to "time" themselves when they are working on quilts. Read the post and learn the details about this challenge.
To view the Machine Quilting Business Blog Click Here
Cindy Roth has her own personal blog. To check out what is happening in Cindy's world Click Here
---
---
Machines for Sale
The Machines for Sale page has been updated with many new listings. If you are looking for a used longarm quilting machine, please check out this page by Clicking Here
You can sign up to receive an email alert when a new Machines For Sale ad has been posted.
To sign up for this Free service Click Here
---
---
My Thoughts
The Olympics are fast approaching and the excitement is building. I am not a sports nut, but I do enjoy watching the Olympics on TV - from my home, in my easy chair, where it is nice and warm, with my knitting in my hand after quilting all day!
What does the Olympics and quilting have in common? Probably not too much, but as I think of the athletes, I think of ALL the hard work and training that they had to do just to qualify for the Olympics. Most of the athletes started very young and have been working HARD at their sport to be at the Olympic level!
As a quilter, especially a machine quilter, think about when you first started machine quilting. Do you remember the first Queen size quilt you quilted? Do you remember how long it took you pin the quilt onto the machine? Did it take about 3 hours? Maybe a little longer? Then do you remember how long it took you to actually quilt it? Did you think that that quilt would never, ever, get quilted?
Did you EVER think you were going to get reasonably good at machine quilting? I'm not talking about "perfect" quilting, I'm talking about having the quilting look OK and not wanting to throw it away - good.
As you were working on your quilts, quilts for charity and quilts for customers if you quilt for a business, I am sure that you began to notice that things seemed to be getting easier. The quilts went on the machine a little faster, the patterns - free hand, pantographs, computerized, etc., - got a little easier to do, you didn't feel so clumsy at quilting and your quilts were looking good. And I mean REALLY good and you were getting lots of compliments on your quilting!!
Machine quilters and Olympic athletes - we are sort of the same. We started out slow and clumsy, we practiced, practiced, practiced, we persevered and we got better and better and BETTER!
We may not win awards at Houston, Paducah, or any other big quilt shows, but as long as you keep quilting and learning by doing, you WILL get better! Maybe, some day, you WILL win at the "Quilting Olympics."
Remember also, every time you finish a quilt, you ARE a WINNER!! So do a victory lap around your machine and enjoy the feeling of accomplishment! And, you go girl (or guy)!!
Enjoy February, keep warm, stay well and KEEP ON QULTING!!
---